Record for Aseprite
Record is a suite of LUA scripts for taking incremental snapshots of your sprite within Aseprite for the purpose of making a time lapse/progress gif.

I always enjoyed seeing progress recordings of artwork and wanted to have a simple way to make them that didn't require firing up a screen recording software and dealing with video editing.

This can be used to create such a time lapse gif of a sprite you are working on natively within Aseprite, or just to keep track of your work as it progressed.

It stores flattened copies of your sprite in a folder local to your current working sprite with an incrementing number to take advantage of Aseprite's automatic gif functionality for files with sequentially numbered names.

Instructions
How To Install
Minimum requirement of Aseprite 1.2.30

Download the ZIP file and extract it anywhere you want.
Open Aseprite and select File > Scripts > Open Scripts Folder.
Copy the extracted folder, aseprite-record, to the opened directory.
Use the Rescan Scripts Folder option or Restart Aseprite to make use of the installed scripts.
Requirements
Record requires that whatever file you are working on be saved so it can know where to save your snapshots of the flattened sprite.
Usage
Record comes packaged with many options available from the Scripts menu.

Command Palette
This option will open up a dialog box to leave up in your editor, giving you access to the functionality to take a snapshot & open the time lapse for the current sprite if any snapshots are saved for it.
The functions of each button are described in detail below and are available as single actions that can be mapped to a keyboard shortcut.


Take Snapshot
This option saves a flattened png copy of the visible layers of the current sprite. It is saved to a sibling folder named <name of sprite>_record. Each file will be saved with an incrementing count appended to the end of it. No modifications to your work are performed by this script, it only creates new files.
Open Time Lapse
This will open the Aseprite dialog asking if you wish to load all sequenced files related as a gif. If you accept, it will load it as a cool time lapse of all your snapshots saved for the current sprite.

Automatic Snapshot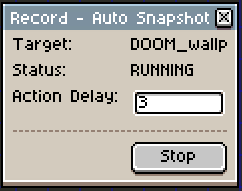 This option will open up a dialog box that provides functionality take snapshots on an interval.
It requires there to be an active & saved sprite in order to run. The interval at which saves happen is based on sprite change events - when changes are made to the sprite, including undo/redo actions.
The interval is configurable in the dialog, lower numbers means more frequent snapshots (and more frequent save dialog popups).
If you change the active sprite in the app, automatic snapshots will keep a cached reference to the target sprite until you target a new one with the dialog.
Usage of the Command Palette and Take Snapshot command can be used in parallel while this is running.
Note: may be annoying with save dialogs popping up.
Recommendations
Keyboard Shortcuts
Aseprite allows you to customize usage of scripts added in further with the ability to bind them to a keyboard shortcut. This is why the options available on the Record Command Palette are available as single actions.

For ease of use, it is recommended to bind the Take Snapshot script to a shortcut to enable access and simplify frequent usage.
Aseprite Prompts & Warnings
Because this script will need to access your file system and write new files, it will prompt modals for you to accept to let it function.
To have the best experience, check the box to "Give full trust to this script". It will also prompt you when it saves the recording as a png since it doesn't support layers like a .aseprite file does. You may want to check that box as well, otherwise it will get quite annoying.


Precautions
As with all software, there are some warnings about actions that could impact your experience with this tool. Luckily, they're pretty straightforward.
Renaming the sprite or recording folder
Because the script functions based off a saved sprite, changing the name of the sprite itself or the folder it writes to will cause it to begin over from start upon next usage of Take Snapshot. This should not incur any loss of data but it will begin as if it was a new instance when you try to create a time lapse. All of your original files will still be where you left them.
Renaming or deleting recording snapshot files
If you rename any of the snapshot files themselves or delete them, it can cause the script to start over in counting or overwrite existing ones. It determines what the next number in sequence should be based off file names.

If you had files 1, 2, and 3 - and removed 2. This would cause the tool to think it needs to start at 2.

License, Source, & Credits
This software is available to you, the user, free of charge under the MIT license.
Its source code is available to download, remix, and submit pull requests & bug fixes on Github.

No credit to me is required if you do use this software, but I do encourage you share it with others who may also find enjoyment & utility from it.
Questions?
You can drop a comment here, the Github repository, or hit me up on Twitter @sprngr_.
Download
Click download now to get access to the following files: